I've been trying to get away from my department-store faves and find discount versions of personal care items. This can be tricky because I'm pretty picky about ingredients - I'm a no sulfates, parabens, and phthalates girl. Aveda and Origins can be good sources for shampoo/conditioner/bodywash/facewash, but with quite a price tag! (and a required trip to the mall - which never happens anymore) Two children and one income = no more $30 lotion for Mommy. Anyway, I'm not complaining, I'm sharing great things I've found!!
Body
LOVE this new bodywash - I think my friend Amy Eason might have recently IGed a love for this brand, too:
SheaMoisture Olive & Green Tea BodyWash with Avocado - in a pinch you could also make salad dressing with it!! This stuff is SO great - smells really good, and has been really moisturizing for the past two weeks that I have used it. This is really important now that we're in pool season, as the chlorine can do a number on my skin. I have also tried Burts Bees Milk (& Honey maybe) BodyWash - not good, didn't love it, made myself finish the bottle, took forever.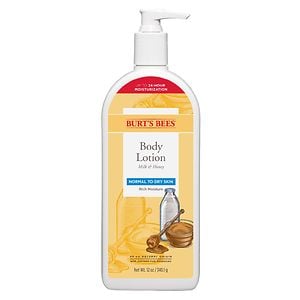 Here is a Burt's Bees item that I have returned to time and time again - the Milk and Honey Body Lotion. Moisturizes really well, absorbs quickly, smells good (not fragrance-y). It's more expensive as your Target lotions go, but I think it is worth it. I tried to switch to the Whole Foods 365 Brand lotion in lavender, but it goes on thick and white and just won't rub in. I have no time for lotion that needs additional attention when both my preschooler AND my baby are pulling on my towel.
Hands
If you've been to my house and washed your hands in either of our bathrooms, the soap you have used is not what the bottle states. I've been refilling the foaming hand soap bottles with 2/3 water and 1/3 Dr. Bronner's Pure Castille Soap in lavendar. There are 100s of uses for this soap - all handily printed on the giant 32oz bottle. I keep forgetting to use it as a face wash, but it is supposed to be good for that as well.
An item for which I'm pretty sure there is no more-affordable-option: Aveda Hand Relief. We always have this on hand (har, har) at our house. It smells amazing and moisturizes really well. Even Pete swears by it. So I usually get a bottle in my stocking, and maybe one for my birthday.
Face
I've used a moisturizer with a daily SPF of 30 for the past few years (I upped it from SPF15/20 around my thirtieth birthday, I think). This Maybelline BB Cream is my favorite: higher SPF, uses naturally sourced sunscreen, not avobenzones and oxybenzones, which are a no-no when pregnant or nursing. And honestly, if I can't have it on my skin when pregnant or nursing, should I really have it on my skin at any other times? (Check out the Environmental Working Group's website for a guide to safe sunscreens
here
.) I was hoping to switch to Neutrogena's BB Cream, mostly because of my girls Jennifer Garner and Keri Washington, but one glance at the back of the bottle showed oxibenzone and oxisalate as the sunscreens. wump-wah.
I've been using a Neutrogena Naturals facewash, and not loving it. I might not be able to find anything that beats my favorite Origins facewash: Checks and Balances. It's spendy, but a bottle lasts forevah.
I've been using Drunk Elephant Umbra sunscreen for the past week - and I love it! It goes on well, not too much residue, seems to work okay, has gotten great reviews. But, BUT - it's so expensive!! (I got mine from Anthropologie with a store credit I had from Christmas) And the bottle is almost halfway gone because we've gone to the pool three times this week. So I will have to go back to using my Badger SPF 30 - also good, also gets great reviews, but has a pretty thick white residue that needs to be rubbed in really well. Target is now carrying Honest Co., so I might give their sunscreen a whirl.
Hair
Right now I'm finishing up Aveda that we have - Rosemary and Mint Shampoo, but am excited to try Alba shampoo and conditioner, now available at Target. As is everything else I use now. In my current life I only go to Trader Joe's, Target, and Kroger on a weekly basis.
Nails
I have found the perfect pink for summer - Essie's Madison Ave-hue. If you're family, it is the same color as Grandma's pink suit that she wore to Hank's wedding(in 2001), and the same color as the belt and shoes she wore with the pretty white eyelet dress at her and Grandpa's 60th Anniversary party (in 1994/5?). So I think of it as Grandma Prann Pink....
I have painted my nails now three times in a row this same color - I never do that! It looked good when my skin was paler, and now that I am, somewhat regrettably, browning right up, it still looks good! I always use Essie's ridge-filling basecoat, followed by two coats of color, and finish off with a top-coat. Sometimes it takes me more than one evening to finish, but it makes for a pretty good at-home pedicure!
So that's what you'll find if you dig around in my bathroom! What are your favorite go-to items for summer? Anything you love that's no longer available?